Utilization
Snow-Liner is a machine which can be attached to an ordinary three-points hanging device, a tractor. The exceptionality of this machine is a special milling cylinder which is able to cut through the snow in a high-quality way, to spread it equally all over the adjusted width and subsequently to fill the tractor's ruts. Behind this snowplough, there is a functionally shaped pressure rubber line that smooths out the whole snow surface and creates a precise, straight surface with so called "corduroy profile". The Snow-Liner equipped like this is able to adjust the ski slopes, the cross-country skiing tracks, the hiking routes, the sledging tracks.
Snow-Liner can be also equipped with fully hydraulically operated one or two track-makers which create one or two tracks for classic skiing. The hydraulic system with a special valve enables the setting of an optimal pressure power on the track-makers which means a creation of the high-quality cross-country skiing track. The track's quality complies with European and world required parameters which are necessary for organization of the classic ski races.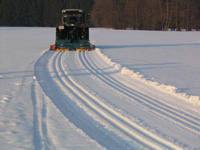 Classic skiing
Snow-Liner is able to create the professional tracks for all the people interested in classic skiing.
Suitable model: SL-300LR
Cross-country skiing
If the track-makers of Snow-Liner are lifted up, the fans of cross-country skiing will be satisfied.
Suitable model: SL-300
Ski slopes

Smaller ski slopes can be also professionally adjusted by this inexpensive machine which means by the Snow-Liner. There is a condition that the slope is passable by a tractor.
Suitable model: SL-300
Hiking routes


With the machine Snow-Liner, an adjustment of hiking routes for guests of mountain hotels and pensions in winter will become nothing and welcomed plus.
Suitable model: SL-300
Sledging

The sledging tracks are also safer after an adjustment of snow with Snow-Liner. They become a real joy and an attraction for the lovers of this sport.
Suitable model: SL-300